Cill Chartha edge past Naomh Columba in Under 21 thriller in Towney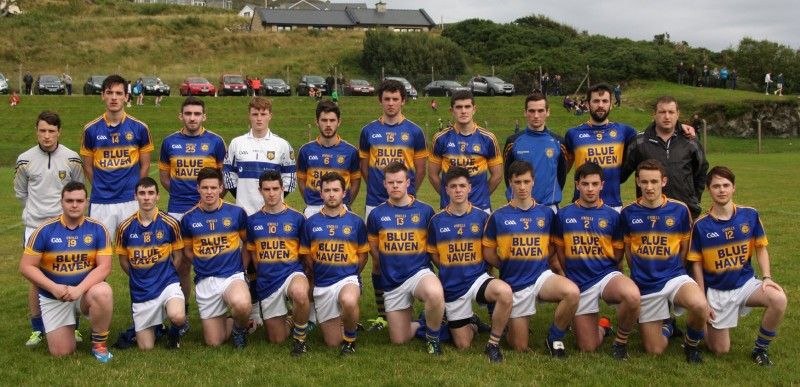 Cill Chartha 1-19 Naomh Columba 0-20 (AET)
Cill Chartha edged out neighbours Naomh Columba in an action packed Under 21 encounter in Towney on Tuesday evening in a match that will live long in the memory of all who were there, the hosts opened the scoring with a point from Neill Sweeney the visitors when hit four unanswered points from a Paddy Byrne free and points from play from Ryan Gillespie and two from Pauric Cunningham in between Kevin Boyle made a good save to deny the Glen lads a goal. Three points in a row from Stephen McBrearty who would end up with a final tally of 0-10 points levelled it up a 0-04 each after 12 minutes Paddy Byrne made a good save when he tipped over a goal bound effort with Stephens's third point. McBrearty then with a great long range point put Cill Chartha in the lead but Glen went straight up the field from the kick out to level matters up again they then had a goal chance that was deflected just wide and Paddy Byrne scored the resulting 45.  
Paddy Byrne made a good save from Aodhán McGinley's effort on 24 minutes, Paddy Byrne with a massive free from almost 50 out levelled it up before late points from Andrew McClean and Conor Doherty made the half time score 0-09 to 0-07 to the hosts. Both sides exchanged points early in the second half, then Glen had another goal chance that went just wide, Conor Doherty then had an effort on goal tipped over by Paddy Byrne before Cormac Cannon bust through the middle after a pass from McBrearty and he rattled the back of the net for the only goal of the contest. The visitors were now five points down but levelled the match up with five unanswered points, Eoin McHugh put Cill Chartha into the lead in the final minutes then in injury a free from McBrearty came off the post and from the resulting attack Philip McNern levelled it up with the last kick of the match full time Cill Chartha 1-14 Naomh Columba 0-17.
It the opening period of extra time Stephan McBrearty got three points and Kevin McNern and Ryan Gillespie hit two scores to leaving the hosts a point up at the half way point of extra time 1-17 to 0-19. Substitute Conor Kennedy levelled things up again with three minutes left before Stephen McBrearty with his tenth point of the game and Eoin O'Donnell in injury time got the hosts over the line, off all the scores on the evening only six were from placed balls credit to both sides for a great match.
Cill Chartha: Kevin Boyle; Eoin O'Donnell (0-01), Daniel Lyons, Andrew McClean (0-01); Chris Doogan, Ryan McHugh, Cormac Cannon (1-00); Stephen McBrearty (0-10, 2f), Aodhán McGinley (0-01); Conor Doherty (0-04), Matthew McClean, Neil Sweeney (0-01); Kevin Gallagher, Jason Campbell, Michael Cunningham.
Subs: Eoin McHugh (0-01) for Kevin Gallagher (half-time), Aaron Doherty for Jason Campbell (71).
Naomh Columba: Paddy Byrne (0-04, (3f, 1 45)); Conor Carr, Jamie McGinley, Philip Doherty; Padraig Ward, Kevin McNern (0-03), Stephen Jones; Philip McNern (0-02), Christopher Byrne; Pauric Cunningham (0-04), Francis Curran (0-01), Paul Doherty (0-01); Eddie Curran, Ryan Gillespie (0-03), Pauric O'Neill (0-01). Subs: Conor Kennedy (0-01) for Eddie Curran (half-time), Pauric Carr for Kevin McNern (79).