Cúrsa Gaeilge Shéamuis de Faoite, 21-25 Iúil 2014 / Ulster Council Irish language course for CLG members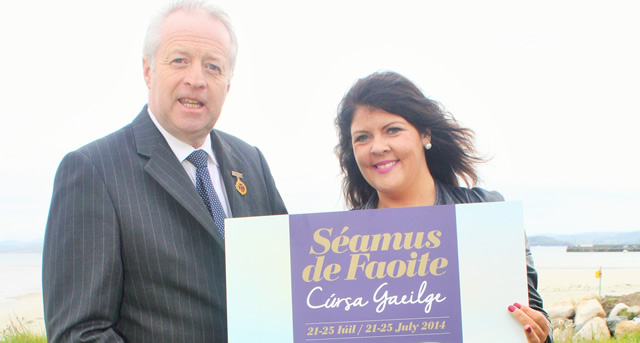 Seo chugaibh an fhoirm iarratais (leagan PDF) do Chúrsa Gaeilge Shéamuis de Faoite 2014, atá á reachtáil ag Comhairle Uladh CLG. Tionólfar an cúrsa in Ionad CLG na nDúnaibh, Dún na nGall, idir Luan 21 agus Aoine 25 Iúil 2014. Beidh ranganna ann do dhaoine d'achan chaighdeán Gaeilge. Tá an cúrsa saor in aisce do bhaill CLG.
Tá fáilte romhat an fhoirm seo a líonadh amach agus a chur chuig Cláraitheoir an chúrsa, Séamas Mac Giolla Phádraig (sonraí teagmhála ar an fhoirm).
Please find attached the application form for the Ulster Council's  annual Séamus de Faoite Irish language course, which will take place in Downings, Do. Dhún na nGall, from Monday 21 to Friday 25 July 2014. Classes will cater for all speakers of all standards. The course is free of charge for GAA members. If interested, please fill out the form and send it to the Registrar, Séamus Mac Giolla Phádraig (contact details on the form).